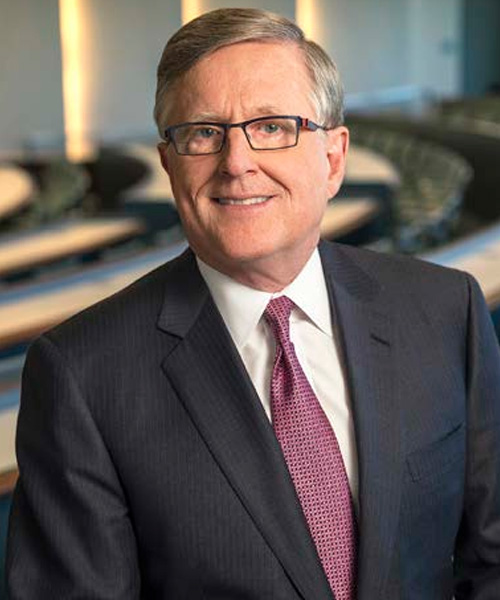 Executive Chairman, Dimensional Fund Advisors
David Booth, a founder of Dimensional Fund Advisors in 1981, is the firm's Executive Chairman.
David has won numerous awards for his accomplishments in applying financial theory and research to the practical world of asset management, and has written numerous articles, particularly for his pioneering work in indexing and small capitalization investing. He has served on the Investment Company Institute's Board of Governors and the ICI's Executive Committee.
The University of Chicago Booth School of Business was named in his honor and David also serves as a lifetime member of the school's advisory council. David Booth Kansas Memorial Stadium at the University of Kansas was also named in his honor. David funded the Booth Family Hall of Athletics in Allen Fieldhouse at KU and donated James Naismith's original 13 rules of basketball.
The David Booth Conservation Center and Department is responsible for the preservation of The Museum of Modern Art's collection. The Booth Family Center for Special Collections at Georgetown University's Lauinger Library contains several archival documents related to Georgetown as well as an extensive collection of rare books, manuscripts, and art.
David received his MBA from the University of Chicago in 1971. He also holds an MS and a BA from the University of Kansas.
Boards
University of Chicago Board of Trustees
University of Kansas Endowment Association Board of Trustees
The Museum of Modern Art Board of Trustees
Becker Friedman Institute Board of Overseers
Awards and Recognition
2018 – University of Chicago Medal
2017 – Investment News Icons and Innovators Award
2016 – Institutional Investor Investment Management Lifetime Achievement Award
2016 – Forbes Money Masters: The 40 Most Powerful People in the Financial World
2012 – Financial Management Association International's Outstanding Financial Executive Award
2010 – Investment News "The Power 20" in the financial services industry
1992 – Financial Analysts Journal Graham and Dodd Award of Excellence