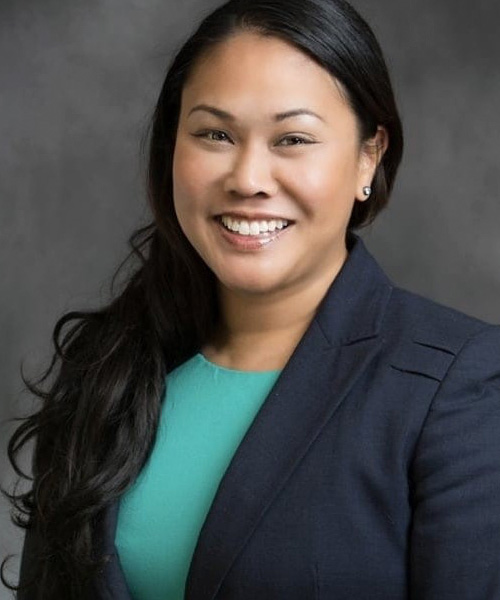 Chief of Staff, California State Treasury
Genevieve V. Jopanda, 41, serves as Chief of Staff to Treasurer Fiona Ma. She brings to the State Treasurer's Office almost 20 years of business operations experience with expertise in leadership and organizational development with success in developing and implementing methodologies to strengthen and maintain the overall health of the organizations she has worked for.
Her previous positions of Customer Service Training Supervisor for the San Francisco Chronicle, South Bay Operations Director for the Hertz Corporation managing 7 off airport locations leading the lowest performing region to be the 8th most profitable region in the nation, Northern California General Manager for Zipcar, Inc. leading the most competitive region in the United States to profitability, Palo Alto Chamber of Commerce as its Programs, Events, and Marketing Director, and as the first Executive Director of San Francisco B Free Campaign public health awareness program leading the largest and most aggressive Hep B screening project in the country funded by the U.S. Centers for Disease Control have all developed her tool box in Lean Management, Capacity Building, and Human Relations.
Genevieve started her political career as a District Liaison to Speaker Pro Tempore Fiona Ma in 2010 serving as liaison to Northern San Mateo County. She has served on the Daly City Parks and Recreation Commission and is a founding member & former National Co-Chair of KAYA: Filipino Americans for Progress. She is most recently the Chair Emeritus of the Filipino American Caucus of the California Democratic Party and is also a recipient of the Filipina Women's Network Global 100 Most Influential Filipina Award.
Genevieve has been feeding her passion for community advocacy at a very young age and continues to do so by volunteering with focus on Anti Domestic Violence awareness, Filipino WWII Veterans advocacy, and mentoring at risk youth through college-career transitioning.
She is a proud aunt of 7 nieces and 2 nephews and was born and raised in San Francisco Bay Area.